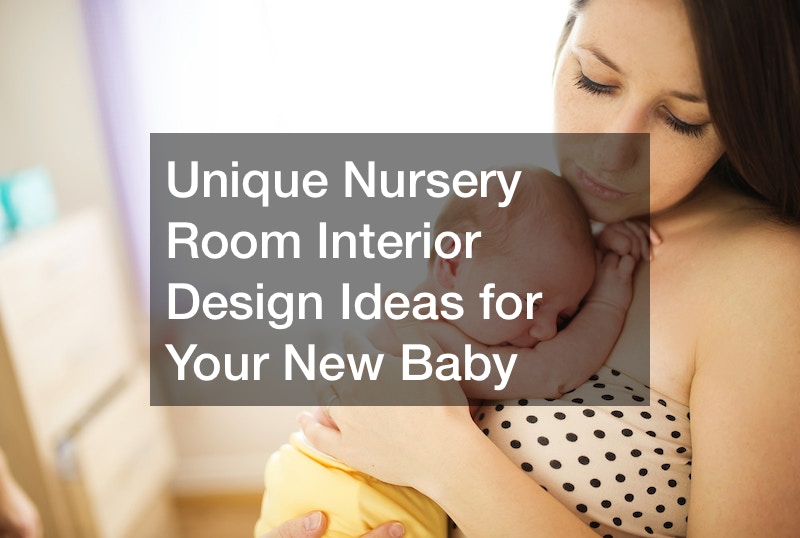 Home
Unique Nursery Room Interior Design Ideas for Your New Baby

When you're expecting a new baby, it can be hard to think about anything else apart from the best way to prepare your home for them and other details like this. This is natural, and it can help you create a space for your baby that makes the initial months of bonding with your baby a lot more fun. That said, you might be a little stuck on the best way for you to make your new baby's nursery unique and impressive. Here are some helpful ideas that could get you started and ensure that your new baby's nursery room interior design is as gorgeous as it's practical.
Start By Choosing the Right Theme
To make your baby's nursery truly unique and attractive, you need to start by picking the right theme. This is going to guide you on how to go about doing the rest of the project. That's because it's going to dictate the colors you paint the walls as well as those that you pick the soft furnishings in. Remember that you need to make your new baby's nursery calm and attractive so that they have an amazing space to grow up in.
While picking a theme, keep in mind that your baby is growing up, and soon, they're going to be in kindergarten and so on. That said, pick a there that will give you flexibility when it's time to redecorate the room to fit their new needs. This may involve things like getting the right background color for the walls, ideally a pastel shade that will be easy to paint a new color or pattern over.
Get Beautiful Clothes Storage
Next, your new baby will need to have their laundry done, and this calls for you to get a functional clothes storage solution. You can pick gorgeous baskets or another solution, bearing in mind that it doesn't have to be massive as your baby's clothes will be small and few. There should be one basket for clean clothes and another for dirty ones to make things more practical and easy for you.
Wicker baskets can add a gorgeous and soft touch to the nursery room interior design that you settle for. That said, remember that you're free to get the storage solution that you like as its details will depend on the overall theme of the nursery, your budget, and other basics. The best storage solution should be durable and easy to take out and keep away as you need to. Keep in mind that you may keep using the storage solution that you get for a long time to come, and this makes it important for you to pick flexible options that can fit the rooms of children of all ages.
Pick High-Quality Furniture
Your baby's room will need to have more than just the cot where your baby will sleep. There should also be furniture such as comfortable seating that you can relax in while you bond with your baby or put them to sleep. That said, shop for furniture that will be durable and attractive enough to complement the rest of the decor and ensure that you have the ultimate nursery room interior design.
Check online to get an idea of what the best baby bedroom furniture should entail. You could also check with your local daycare to learn more about the typical furniture you can find in a baby's nursery. This should make it easier for you to shop for what you need and therefore make it a faster process for you. In this case, remember that durability is key. This means that if you intend to have other babies in the future, buying durable furniture at this point may save you from having to head out to shop for furniture again when you need it.
Add a Shelf or Two
Shelves are an important item to think about whenever you're doing interior design. This is because they help with a number of things, including design and function. With shelves in the nursery, you'll find it easier to come up with the ultimate nursery room interior design. That's because you can use the shelves to place items like baby gift baskets, wipes, sanitizer, and other nursery essentials.
You can also place books, crayons, and more on the shelves as your baby grows. This way, they'll have easy access to learning materials and more of what they need as they get older. You can place things such as a children's bible on one of the shelves. This way, you can easily read for them each night and keep up with their children Bible lessons when they get started with them. With shelves, you can also introduce plants and other unique decorative items to your child's nursery and make it even more amazing.
Pick the Right Floor
While it will take a while before your baby begins to actually interact with the floor in their room or any other room in the house for that matter, you should pick the right floor as early as you can. This way, when your baby is ready to start playing on the floor and crawling, you don't have to work on the floor again. The right floor shouldn't be too expensive, as long as it can be warm and slip-proof, at least to some degree. In this case, materials like carpet and hardwood are great options to consider.
You also need to make sure that the floor you install in your new baby's nursery is capable of holding the other elements of the room together. So, for example, if you use pallets and crates for storage, flooring that won't be damaged by their weight and that won't make them stand out for the wrong reasons is the best option for you. Shop around to find the best option as there are currently many types of flooring that you can install.
Install Calming Wallpaper
You could either paint the walls or use wallpaper in order to get the best outcome from your nursery room interior design. Doing this can help you add a beautiful final element to the space. Choose a calm and neutral color, and while plain is generally the best, you can choose a playful pattern because it's a baby's nursery after all. Wallpaper might give you more options in terms of pattern and texture, and it will also be quite fast to install.
If you like, you can install the wallpaper yourself or hire a professional to do it for you. They can work fast and effectively, giving you a professional final look to complete your nursery room interior design. If you want a unique element or pattern, you can look for a graphic design specialist to work with. They're going to help you get an amazing product in the end, even though it may cost you a bit extra if you choose this option.
Hang Some Wall Decor
Don't leave the walls bare while working on the nursery room interior design. Look for family portraits, cute quotes, playful images, or even art pieces to hang on your baby's nursery room's walls. These can breathe new life into walls that would otherwise have remained bland and uninspiring, especially if you simply paint the walls and don't add any texture to them. Custom portraits of your family will provide some amazing wall hangings.
You can also go all out and get actual art to hang on the walls of your baby's nursery. These may be simple pieces that you've made yourself, or pieces that you've bought from artists. Whatever the case, remember to make sure that they match the rest of the house. With the hooks in place, you simply have to change the art as your baby grows, keeping it relevant to their age.
Set Up Night Lights
Lighting can have a massive impact on a space, and this makes it important for you to think about lighting while working on nursery room interior design. You can get simple fixtures for the room and provide enough of them so that you can get ambient lighting or direct lighting, depending on what you need at any given time. For an even better outcome, think about getting a dimmer switch. This way, you can control the specific brightness of the light and avoid lighting that's either too bright or too dark.
For this task, you may want to call a residential electrician who will be in a position to help you install outlets if you need some. They may also help you upgrade the wiring in the nursery to make sure that it's safe and can support the details of lighting that you need for your home. When all of this is done, you should shop for LED light bulbs, which are generally more sustainable and consume less energy to run. The electrician should also check to ensure that the wiring is well done and that there are no potential electrical risks in the nursery.
Repair Any Damage
Damage in your baby's nursery will worsen over time if you put it off to work at a later date. That's because once the baby arrives, you'll have less free time on your hands. That said, it's best to inspect the room thoroughly so that you know there are no damages that need work right away. On this note, one of the most important projects to work on is water restoration in a room that's been damaged by water. Failure to do this could expose your baby to mold spores, which thrive in moist areas like walls that have water damage.
Similarly, peeling paint, gaps, and cracks on the walls can see you leaving your baby in discomfort and at a health risk. That's because the room may be open to chilly drafts in cold seasons, and you have no idea what's behind the paint that peels off the walls. In any case, the nursery should be in great shape so that any aesthetic changes that you make actually have an impact.
Get the Right Window Treatments
The ambiance, appearance, longevity, and similar details of your baby's nursery room interior design can all be impacted by the window treatment that you get. This makes it a great idea for you to shop around for the right window treatment to install in your baby's nursery windows. This should ideally be a window treatment that helps keep extreme light out of your baby's room early in the morning. It should also ensure that there's no air leak from the indoor space to the outdoor space, making it hard for you to keep the room within a comfortable temperature throughout the year.
You can also use window treatments to serve a decorative purpose. To do this, you might be interested in learning more about stained glass restoration so that you can consider whether this is a viable option to use. It can make a lasting statement, given its artistic nature and ability to boost the indoor quality of light in any space by not just improving the appearance of the room based on the windows' shades and colors. It can also help make the light that filters into the room a lot more attractive.
Add Some Greenery
Getting some safe plants to add to your baby's nursery can help you give the space a serious boost. This is in terms of appearance and quality as well. With the right plants, you can be sure that your baby will have cleaner and fresher air in their room. Greenery will also introduce an aspect of the outdoors to your baby's nursery without any of the associated risks, such as pests and such.
If you simply want to get the appearance of greenery without the actual plants, you can also get fake plants. These will call for less upkeep and may therefore be the best choice for you. With minimal cleanup and watering schedules needed, you won't have to deal with a lot of hassle in this case.
These are some of the unique nursery room interior design ideas that you can work on before your bundle of joy arrives. When their space is ready and welcoming, you can be sure that you'll have less stress to deal with. You'll have more free time to enjoy the first precious months of your baby's life, and this is something you're quite likely never going to forget.