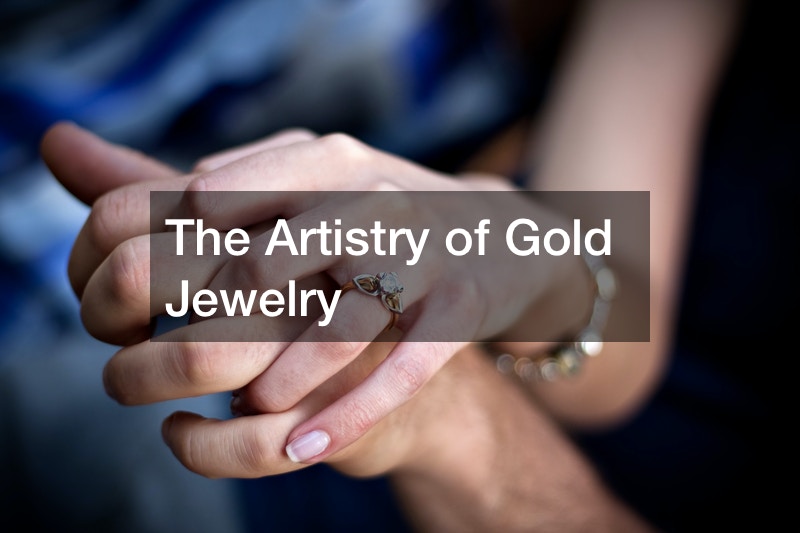 Home
The Artistry of Gold Jewelry

One of the earliest types of valuable metals is jewelry, particularly gold jewelry, which is regarded as decorative art. Crowns, tiaras, necklaces, earrings, amulets, bracelets, rings, studs, brooches, torcs, chains, tie-pins, hat-pins, hairpins, belt buckles, shoe buckles, ankle bracelets, and toe rings are just a few examples of the many various kinds of jewelry. Jewelry is admired for both its aesthetics and the worth of its components, which often comprise gold or silver and a variety of precious and semi-precious stones.
It is made by goldsmiths as well as other expert craftsmen including silversmiths, gemologists, diamond cutters/setters, and lapidaries. As evidenced by cave paintings of individuals wearing necklaces and bracelets, these colorful adornments were initially created in prehistoric periods and have subsequently been a common element of most cultures throughout history.
Gold jewelry is one of the most expensive forms of art, and its fundamental elements are metal sheets, metal cast in a mold, and wire. Due to its malleability, ductility, color, and worth, gold is the metal that is used the most frequently.
While the gold wire is frequently used to connect diamonds together or to build chains, gold sheets can be embossed, pressed, or perforated into artistic forms. Silver and platinum, as well as alloys like bronze and non-precious metals like copper and steel, are less expensive precious metals utilized in jewelry production. Learn more about this topic by watching this informative video.
.