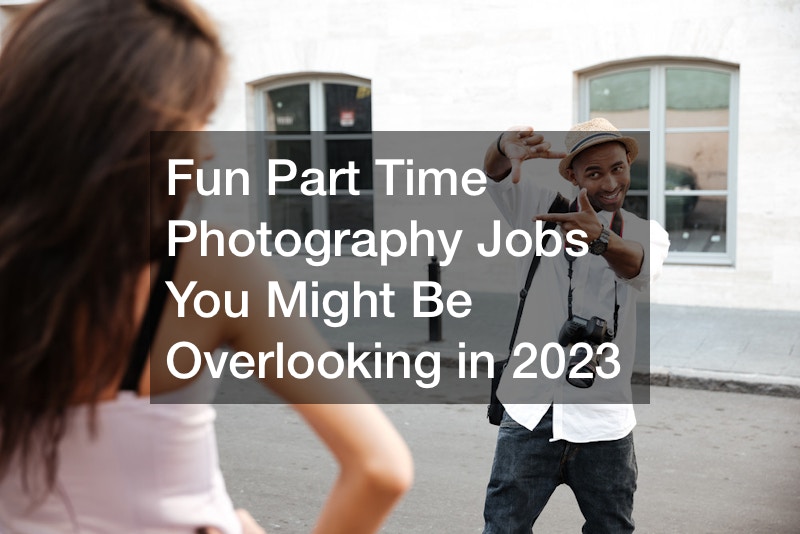 Home
Fun Part Time Photography Jobs You Might Be Overlooking in 2023

For hobbyist shutterbugs and professional photographers who want a little extra income, there are plenty of ways to make a part-time living through photography – and even have fun while doing it! Photography can be a great way to express your personal art style or capture exciting moments. If you already enjoy doing it in your free time without pay, getting a part-time photography gig can sweeten the deal. Of course, if you've never been paid for your photography, you might not know what's out there. Like with any creative field, the sky's the limit for what you can do with photography. From wedding photography to real estate photography, if you can snap a picture of an item or event, you can probably make some extra cash doing it.
For those who are in college for photography, getting part-time experience as a photographer can help you land a full-time gig after you graduate. If you like the flexibility of part-time gigs, you can pull together multiple part-time photographer jobs to generate a full-time income. Since photography has a low barrier to entry, you may be able to get started with limited experience. As you gain more part time photographer jobs, you'll build a resume that leads you closer to your dream job. Or you'll simply have a good time while making some fun money. Regardless of your goals with photography, a part time photographer job is a perfect place to start. The jobs listed below can give you a great launching point for your job search.
Student Portrait Photographer
Whether parents send their child to the best local private elementary school or a large public school, they cherish school picture day portraits. Most of us remember getting our hair done and wearing our favorite outfit on that special day when we'd get a snapshot of ourselves in this grade or that grade. Every year, we'd notice how our style might have changed or our face might have morphed into something a little less babyish from the previous year. As a student portrait photographer, you'll have the fulfilling opportunity to give parents the gift of a high-quality portrait of their child. What's more, you'll get to work with kids and have a steady stream of part time photographer jobs that could scale to full-time work if you choose.
To become a student portrait photographer, you can look on job boards like Indeed.com or ask your local schools which student portrait provider they use. From there, you can apply for any openings or call the companies to see what their hiring process looks like. Some student portrait companies hold hiring events where you'll have the opportunity to learn more about potential opportunities as a student portrait photographer and even interview on the spot. Other student portrait companies may conduct individual interviews as they get an opening. Reviewing the process of getting hired is an important job-seeking step.
While school picture day only happens once or twice a year in most schools, you can get plenty of student photography work if you are willing to travel. If you enjoy traveling, you'll love that aspect of this part time photographer job. Even if you don't like to travel or don't have the means to do it, you may be able to land a part-time student portrait photographer job for your local schools and stick with the places closest to you.
Pet Photographer
If you're an animal lover, then you'll love getting your first part time pet photographer job. From taking pictures of bedding for horse stalls to snapping shots of adorable fuzzy animals, this job is perfect for cat people, dog people, horse people, and more. If your furry friend is the light of your life, pet photography can be a fun outlet. If you're already great at taking pictures of your favorite four-legged friends, earning money while doing it can make it even more enjoyable. When you truly appreciate animals, this kind of work won't even feel like a job.
To gain experience in pet photography, you can try taking pictures of your pets or the pets of your friends and family. Since animals tend to like to move away and do their own thing, it's a specialized skill to capture a good shot of one. You may find that it's trickier than you initially expected. After all, for every adorable shot of a baby animal, there are probably hundreds of duds where the little creature moved or wasn't doing a flattering pose. Unlike when taking portraits of people, you can't direct animals to stay in a certain place or pose in a certain way. For the most part, you have to use your skilled eye as a photographer and hope that you're going to get a usable shot.
In professional pet photography gigs, you may have tools at your disposal to help guide an animal to the right shot such as treats, toys, or other equipment. When you are preparing to take on a part time pet photographer job, you should ask the client what they expect out of the shoot and what props or tools they need you to supply. If you have to provide any of these items, you should include that in your hourly rate as an additional fee or wrap it into the rate in your quote.
If a job has a flat rate, you should subtract that amount from your earnings to see if your hourly rate still seems fair. If you're just starting out, you may be tempted to take on any pet photography work no matter how well or poorly it pays. To build your portfolio, this can be a good strategy. As you gain more experience, though, you should know your worth and charge rates that reflect it. If your part time pet photography job grows into a full-time business, these types of practices will ensure that you can pay the bills with photography.
Real Estate Photographer
From real estate listings to testimonials for real estate companies, real estate photography is in high demand. While taking pictures of a kitchen wall cabinet or interesting kitchen cabinet design might seem simple enough, real estate agents need skilled photographers who can capture a mood through the camera lens and convey that to potential home buyers. Without professional photography, a real estate agent might find that they're having a hard time making sales and getting the word out there about their business.
Since real estate agents know that visuals matter in this industry, they tend to invest in professionals who take their part time photographer job seriously. If you love flipping through interior design magazines and poring over gorgeous spreads of curated living rooms or artfully decorated bedrooms, this job might be right up your alley. When you have friends in the real estate industry, it may be easier to break into the field. Even if you don't know any real estate agents, you can keep an eye out for advertisements for real estate photography gigs.
If you really want to be a go-getter, you can pitch your services as a part-time photographer to real estate companies until you get a few gigs under your belt. If you do really well, your real estate photography work can transition from a part-time gig to a full-time job. Real estate agents constantly need new pictures for listings, promotions, and more. If you're a photographer who knows how to capture their vision for a house or room, you'll be a great asset for their creative team.
Sports Photographer
If you love football, baseball, golf, and the like, finding part time photographer jobs in the sports industry can feel like a dream come true. Whether you're snapping photos of golf carts for a golf cart dealer or taking action shots of sick game day plays, you'll find this job fulfilling and exciting. After all, you'll get to watch sports or see the latest sporting equipment through your camera lens. For sports fanatics, there's nothing better than that except cheering on your favorite team or getting on the field yourself. If you're lucky, you might even be able to get up close to your favorite sports idols and access sporting events for free as a photographer.
Sports photography can be fun but it can also be challenging. Since you're taking shots of the action sometimes, you may have a tougher time capturing a great shot than you would if you were just taking pictures of static items. In sports photography, you might be immortalizing sporting moments that go down in history. A blurry or out-of-focus shot in those moments can be disappointing, not only to the company that hired you but also to devoted sports fans. If you mostly work in sports advertising and take photos of products, this won't be as big of an issue. If you plan on working on photographing sporting events, you can start small with local high school sports and work your way up to big-name teams.
Nonprofit Photographer
When you see advertisements that ask for donations to a shelter for runaways, you might not think about who's behind the camera lens taking pictures of the nonprofit. With fundraising events, nonprofits and charities rely on professionals who take on part-time photographer jobs to make their message shine through the page online or in printed pamphlets. If you have a heart for charitable causes, working as a photographer in the nonprofit industry can blend altruism and enjoyment. When you find a nonprofit that aligns with your values and causes that are near and dear to your heart, it can feel even more rewarding.
As a nonprofit photographer, you might need to prepare to sign paperwork for confidentiality and practice editing shots to block out nonprofit participants who haven't consented to have their photos taken or published. Additionally, you should be prepared to work with photography subjects who may have extra anxiety around having their photos taken, depending on the type of nonprofit that hires you. If you're a compassionate, patient person who wants to do good while earning a side income, nonprofit photography is a solid outlet.
Healthcare Industry Photographer
When you visit ear doctors offices, you might not think about the person behind the camera who took pictures of the ads in the office. If you become a healthcare industry photographer, you'll never see the photos in your doctor's office the same way. From snapping photos of healthcare equipment for advertisements or e-commerce listings to taking photos of patients for testimonials, there are plenty of different tasks you can do as a part-time healthcare photographer. If you've worked in healthcare in the past and are looking to transition to working in photography, this could be an ideal blend of both worlds. Having some knowledge of healthcare protocol can also help you be a better photographer in certain healthcare settings.
Manufacturing Industry Photographer
From a PET preform supplier to a candle factory, manufacturers need photographers to take photos of their products and facilities for advertising and e-commerce. If you've worked in manufacturing, this can be a great avenue for dipping your toe in photography while sticking to your roots. From e-commerce listing photos to promotional materials, manufacturing companies have plenty of photography work available.
Lawn Care Industry Photographer
If you've worked in landscaping or appreciate a well-maintained lawn, taking on a part time photographer job with local lawn companies can be a wonderful way to make a little extra cash. To land these kinds of gigs, contact lawn care companies to see if they need your services. As you get more lawn care photography work, build a portfolio that displays examples of your work. From there, you can pitch your services to local landscaping businesses. From taking photos of a lawn installation project to snapping company portraits, there are a lot of different things you can do in the lawn care industry as a photographer.
In conclusion
If you love photography, you'll love these part-time photography jobs. When you're kickstarting your photography career, taking on part-time work can be a great way to gain experience. If you're having fun doing it, you'll never have to work a day in your life. At least, that's how it'll feel!